A Life Course Aging Perspective for Japan
Daniel P. Dolan (Principal, Communication Japan)
---
One of the big news items this year has been the population aging of Japan. Statistics are flooding in from many sources, such as a recent report from the Ministry of Public Management, Home Affairs, Posts and Telecommunications that shows that as of September 2003 19 percent of the total population in Japan is 65 years old or older. This means that 22 million Japanese citizens are over 65, and the National Institute of Population and Social Security Research forecasts this number to grow to 30 million—approximately 25% of the population—by 2013, and an amazing 35.7% in 2050 (see Figure 1)
Figure 1: Percentage of Japan Population Over 65 Years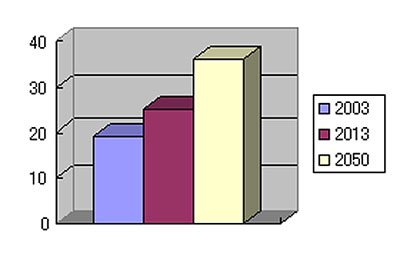 In addition, Japan's over-65 population is growing at the fastest rate in the world as shown in figure 2:
Figure 2: Japan Leading Aged Population Growth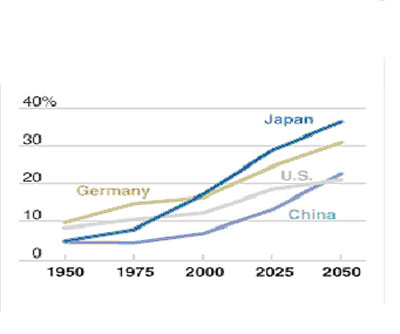 Most discussions related to the aging of Japan have focused on economic considerations such as impact on productivity and retirement age and pension reforms. Although these are critical issues, not much attention has been paid to senior citizen quality of life as this demographic trend continues. This is important because as the population percentage of senior citizens in Japan and elsewhere increases, so will the need for their participation in the workforce and other social activities, such as caring for other elderly persons. Here I would like to introduce the Life Course perspective on aging developed by the World Health Organization as one perspective on empowering and enabling our older citizens.
Aging and the Life Course
The main idea of the Life Course perspective is that although there is a natural slide in physical health as people age past early adulthood, there are lifestyle choices and social support mechanisms that can greatly impact the quality of life of senior citizens. These factors in turn affect the ability of seniors to participate productively in society. The World Health Organization lists the following life course factors and action points at both individual and policymaking levels:
Factors
Individual action
Policy action
Fetal environment
Ensure balanced nutrition in young girls and pregnant or lactating women
Avoid smoking during pregnancy
Focus health promotion activities on girls and women
Increase awareness about importance of balanced nutrition for girls and women
Childhood environment
Exclusive breastfeeding for the first 4 to 6 months of life
Continue breastfeeding with adequate complementary food, up to 2 years of age and beyond
Ensure balanced nutrition & adequate physical exercise for your children
Have your child immunized
Observe good hand & food hygiene
Have infections treated early
Promote breastfeeding and compliance with the Code of Marketing of Breastmilk Substitutes
Promote balanced diet
Fortify foods/water, particularly in areas of malnutrition
Improve sanitation & housing and reduce domestic overcrowding
Educate about and provide immunization programs
Smoking
Stop smoking - cessation is beneficial at any age
Educate your children about the ill effects of smoking
Ban tobacco advertising
Ban sale of tobacco to children
Provide health education in schools and workplace
Promote smoke free environments
Provide tobacco cessation programs
Alcohol
Maintain moderate drinking limits
Seek professional help if you think you may drink excessively
Ban sale of alcohol to children
Provide health education in schools and workplace
Provide counseling services to those who may be drinking excessively
Physical activity
Exercise regularly, from the earliest years to older age; walking, climbing stairs, and housework are effective forms of exercise!
Incorporate exercise into school curricula
Create workplaces which provide exercise facilities
Diet
Consume a diet high in fiber and low in animal fat and salt
Reduce your weight if you are overweight and maintain normal body weight
Increase consumer awareness about direct links between good nutrition and health
Adult diseases
Make life style adjustments as advocated above
Make use of available prevention (screening vaccination) programs
See your doctor at regular intervals
Implement evaluated prevention programs
Ensure access to safe maternity services
Legislate against and reduce environmental threats
Provide accessible and affordable health care for all
Social integration
Stay involved in your family, your community, a club, or a religious organization li>Continue to educate yourself and all your children
Promote social cohesion and intergenerational solidarity
Provide access to life-long education
Implement legislation to protect the rights of vulnerable members of society and to prevent discrimination
Educate the public about negative attitudes and practices resulting in social exclusion for older people
Gender
Be aware of and speak out against gender discrimination
Educate boys and girls to avoid gender stereotyping
Implement legislation against gender discrimination in education, jobs, health care, property rights, marriage & inheritance laws
Integrate gender analysis in health research & health care programs
Income security
Be informed about the public and private measures intended to protect income security over the life course
Provide income security and access to appropriate health care for older persons
Fight age discrimination in the work place
Adapted from World Health Organization chart
Prospects for Japan
Examination of the proposals listed above suggests that Japan is providing a relatively good environment for elderly quality of life. Statistics on longevity partially back up this view: the average life-span in Japan in 2002 was 85.23 years for women and 78.32 for men, which is the highest in the world. Even so, with approximately 53% of Japanese adult males smoking regularly in 2002 and tobacco consumption rates among young women rising there is plenty of room in Japan for decreasing smoking-related diseases and increasing quality of life. This is particularly true for later years in life when many smoking-related problems begin to develop.
Hopefully Japan will carefully consider quality of life issues for its senior citizens as it wrestles with the huge problem of the population-aging shift already underway. Healthcare, personal independence, social networks and community participation are important aspects of elderly life that need policy and infrastructure support, as well as a solid foundation of healthy life choices beginning at birth.