Report on Quebec Minister Raymond Bachand's Luncheon Speech
Takahiro MIYAO (Professor, Head, Japanese Institute of Global Communications, International University of Japan)
---
[Report on Quebec Minister Raymond Bachand's Luncheon Speech]
Date/Time:
June 13 (T) 12:00-13:30
Place:
Imperial Hotel, Tokyo
Program:
Speaker: Raymond Bachand (Quebec Minister of Economic Development, Innovation and Exports)
Topic: "Quebec-Japan Relations"
Language: English
Sponsor:
Canadian Chamber of Commerce in Japan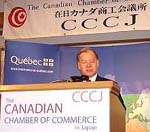 Quebec Minister of Economic Development, Innovation and Exports, Mr. Raymond Bachand visited Japan and gave a speech on Quebec-Japan relations at the luncheon sponsored by the Canadian Chamber of Commerce in Japan on June 13, 2006.
Mr. Bachand began with a brief introductory remark in French and then switched to English to present his view on Quebec/Canada-Japan relations, emphasizing the importance of Japan as the gateway to Asia and the major market for various products from the Quebec viewpoint. Specifically, he took up the aerospace industry to illustrate the strength of the Quebec industry, where he said that "62% of Canada's aerospace industry is based in Quebec, and it comprises 240 corporations with 40,000 workers, ...and all the major components of aircraft building can be found in the 30 kilometer radius of the city of Montreal, which is among the world's three major centers for aerospace, along with Settle and Toulouse." Needless to say, Japan and Quebec need each other as complementary partners in this important industry.
In conclusion, he cited two of the best reasons for doing business in Quebec, that is, (1) abundant highly-specialized, competent skilled labor force, and (2) stable supply of renewable energy, both of which Japan need for further economic growth. In turn, Quebec is interested in Japan's strength in energy saving technology, which will help Quebec develop a new sector of its industry for sustainable economic development in the future. Finally, Mr. Bachand expressed his gratitude to the Japanese "partners" who attended the luncheon for their loyalty in business relations with Quebec.
The following is a list of those who were seated at the head table, indicating Quebec's interest in doing more business with Japanese aerospace-related companies as well as their appreciation for personal friendship with Japanese people like Mr. Keikichi Honda and myself.
Mr. Raymond Bachand -- Quebec Minister for Economic Development, Innovation and Exports
Mr. Joseph Caron -- Canadian Ambassador in Japan
Mr. Jean Clavet -- Delegation Generale du Quebec a Tokyo
Mr. Philip O'Neil - President, Canadian Chamber of Commerce of Japan
Mr. Keikichi Honda, President, NCR
Mr. Akira Aomura, President, Mitsui Bussan Aerospace
Mr. Michiharu Katsura, Senior Vice President, Machinery & Aerospace Division, Sojitz Corporation
Mr. Takashi Saito, Executive Vice-President, JETRO
Mr. Kaoru Mamiya, Vice-President, Japan Aerospace Exploration Agency
Dr. Takahiro Miyao, Professor, International University of Japan