Consensus and Strategy in Japan's National Security: MIT Professor Samuels
Takahiro MIYAO (Professor and Head, Japanese Institute of Global Communications, IUJ)
---
FCCJ Professional Luncheon:
Date/Time:
January 16, 2008 (W) 12:30 - 13:45
Place:
Foreign Correspondents' Club of Japan
Program:
12:30 - 13:00


Speaker: Richard J. Samuels (Professor, and Japan Program Director, Massachusetts Institute of Technology)


13:00 - 13:45


Q&A:

Organizer:
Foreign Correspondents' Club of Japan (http://www.fccj.or.jp)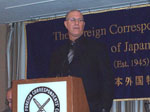 MIT Professor and Japan Program Director Richard Samuels gave a talk on Japan's national security strategy and consensus formation at the Foreign Correspondents' Club of Japan on Wednesday, January 16. This was such a timely topic that the luncheon room was completely full of Japanese and foreign correspondents and other club members. His talk may be summarized as follows.
These days Japan's strategy in foreign policy is hotly debated in the Diet, where any consensus appears to be difficult to obtain, and no one seems to be able to predict the future in this field. However, it may be possible to see the future more clearly if we examine the past and the present of Japan's policy debate in foreign relations and national security. Interesting enough, Japanese foreign policy specialists and national security planners are now discussing and making choices about the balance between economic and military measures, between hard and soft power, among alliance partners, among various security regimes, etc., much like their predecessors in the 19th and 20th centuries, when very similar debates took place, leading to national consensus once in a while.
In the postwar period, the starting point was what might be called the "Yoshida consensus." This economics-first national security strategy was mainly advocated by pacifists and liberal internationalists and widely accepted by the general public during the cold war. Since then, Japan has come a long way to the present, where "de facto" military power is established not just for homeland security but also for overseas dispatches. This has been a gradual, step-by-step process throughout the postwar period, although it was accelerated by those who wish to make Japan a "normal" nation, namely "normal nation-alists," represented by Junichiro Koizumi, who came to power in the early 2000s.
Then, what will the future hold? Would normal nation advocates become so dominant that the Yoshida consensus will be displaced entirely? Many of the normal nation-alists, however, have expressed their commitment to the pacifist idea of the Japanese constitution, and do not advocate an autonomous defense buildup. On the other hand, liberal internationalists, who often advocate Japan as a "middle-power" with no use of force, have been gradually accepting Japan's long-term trend toward a "normal nation." It should also be pointed out that both normal nation-alists and middle-power internationalists are basically supporting the Japan-U.S. alliance, but at the same time, seeking more autonomy from the U.S, and friendlier relations with China and other Asian nations.
Furthermore, what might be called "autonomists," seeking autonomy through military strength, and "pacifists," heirs to unarmed neutralists, are critical of Japan's alliance with the U.S., but even they are not advocating a complete break from it. It might be said that none of the four groups, that is, normal nation-alists, middle-power internationalists, autonomists and pacifists, refuses to accept the legitimacy of the Self-Defense Forces, and all agree that China needs to be integrated into the international community peacefully.
Thus, the Yoshida consensus is likely to be succeeded by the "middle of the road" consensus, where Japan's relationship with the U.S. and China will be neither too hot nor too cold, and its presence in the region will be neither too big nor too small, allowing a fuller hedge against rising Chinese power and declining U.S. power, which may or may not happen in the future. This might be called the "Goldilocks strategy," which should be regarded as a conscious and pragmatic choice on the part of Japan's leadership.
In the free discussion session, there were various questions raised by foreign correspondents, especially about the U.S.-China relations and Japan's position between them. Professor Samuels offered his answers, emphasizing Japan's strategic choice and rather optimistic prospects for Japan's future.
Acknowledgment:
This review is adopted from the following blog (with its Japanese translation):
http://glocom.blog59.fc2.com/blog-date-20080121.html