Branding and Design in Mobile Business
Takahiro MIYAO (Professor and Head, Japanese Institute of Global Communications, IUJ)
---
Global Communications Platform Seminar Series
Date/Time:
February 28, 2008; 16:30 – 18:30
Place:
GLOCOM Hall, Roppongi, Minato-ku, Tokyo
Program:
Main Theme: Branding and Design in Mobile Business
Part 1 (16:30 - 17:30)


Topic: Branding as a Bridge Between Wireless and Retail Industries
Speakers: Prof. Ludovico Ciferri (IUJ), Prof. Philip Sugai (IUJ) and Mr. Marco Koeder (Cybermedia)


Part 2 (17:30 - 18:30)


Topic: Development of Technology, Business and Keitai Design
Speakers: Mr. Hitomi Murakami (Seikei University, KDDI)


Sponsor:
Global Communications Platform, International University of Japan
In coopertion with members of International University of Japan (IUJ)-Urasa Campus, we held a Platform seminar on "Branding and Design in Mobile Business" at GLOCOM in Roppongi on February 28.

In Part 1, IUJ's Mocobe team members, Prof. Ludovico Ciferri (IUJ), Prof. Philip Sugai (IUJ) and Mr. Marco Koeder (Cybermedia) in turn gave presentations, and in Part 2, the speaker was Mr. Hitomi Murakami (Seikei University) , who was recommended by the Mocobe team members.
In Part 1, it was emphasized that Japanese keitai business has been dominated by carriers, and Japan's handset manufacturers are well known within Japan, but have a very small share and no brand power in the world market. It is also mentioned that there exists a possibility of Japanese handset manufacturers to acquire brand power in some niche markets overseas in the future.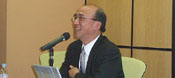 In Part 2, it is concluded that while design is regarded by consumers as important, such key factors as cost and technology tend to dominate in determining consumer behavior after all.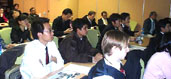 Among the participants, there were a group of IUJ students, interested in keitai business, who asked questions and contributed to free discussions. This is the first time that IUJ professors, researchers and students visited GLOCOM to participate in a Platform seminar. Thus, it was a very meaningful event for IUJ as a whole, and we should continue doing this in the future.
Regarding the subject matter, branding and design are very interesting topics and we plan to pursue these topics in our seminar series. For example, it is an idea to take up the topic of "national branding" for our next seminar. For "national branding," see the following:
http://glocom.blog59.fc2.com/blog-date-20080229.html
This report is adopted from the following blog (with its Japanese translation):
http://glocom.blog59.fc2.com/blog-date-20080229.html