Prof. Takatoshi Ito's Talk at FCCJ: "Making Tokyo a First-Rate International Financial Center"
Takahiro MIYAO (Professor and Head, Japanese Institute of Global Communications, IUJ)
---
FCCJ Professional Luncheon:
Date/Time:
April 17, 2008 (Th) 12:30 - 13:45
Place:
Foreign Correspondents' Club of Japan
Program:
12:30 - 13:15


Speaker: Takatoshi Ito (Professor, University of Tokyo, and Member of the Council on Economic and Fiscal Policy)


13:15 - 13:45:


Q&A

Organizer:
Foreign Correspondents' Club of Japan (http://www.fccj.or.jp)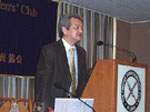 Mr. Takatoshi Ito, who is a professor at the University of Tokyo and also a member of the Council on Economic and Fiscal Policy (CEFP), advising Prime Minister Fukuda, made a presentation entitled "Making Tokyo a First-Rate International Financial Center" at a professional luncheon meeting, which was held at the FCCJ on April 17. In his talk, Prof. Ito hinted what kind of points would be included and emphasized in a policy recommendation report that is currently being prepared by the CEFP's Working Group on Financial and Capital Markets and will be made public sometime in May, 2008. This is to follow the previous report on this issue, which was announced by the CEFP in June 2007 and at least partly has been implemented through various legislative measures.
First of all, Prof. Ito argued that we need to open up Japan to deal with various problems and challenges, especially the problem of aging trends in Japan's demography. In order to maintain and improve our productivity and living standard, we should look outward and, by doing so, would benefit from high economic growth in Asian countries like China. In this context, the financial industry could be regarded as an engine of economic growth, and especially important in Japan, because the huge amounts of accumulated wealth in Japan's households, corporations and the government should be more actively mobilized and utilized through the financial industry to stimulate the economy.
Against this background, the question is how to make Tokyo a first-rate international financial center like London. Here, Prof. Ito referred to three key words, "better field," "better players" and "better umpire," by using an analogy to baseball games. As for a better field, the Tokyo Stock Exchange should be improved by including commodities and grain futures trading. For that purpose, regulations on commodity transactions by various ministries must be reconsidered. In order to attract better players with more risk money such as private equity funds, it is important to provide a "friendly" market condition for players, especially foreign investors, by making taxes and regulations comparable to other international financial centers. Needless to say, this is closely related to the quality of the "umpire" who regulates the market, where the FSA (Financial Services Agency) should be a better umpire by emphasizing "principle-based" regulations for more transparency.
One of the key issues related to the financial and capital markets in Japan, according to Prof. Ito, is how to better manage accumulated assets, especially, the total amount of approximately 1500 trillion yen accumulated in the household sector, about 150 trillion yen in the Public Pension Funds, as well as about 100 trillion yen in the Foreign Reserves Account, all of which are now being poorly managed. In Japan there seems to be a strong tendency to invest in "safe" bank deposits and government bonds despite their low interest rates, although rather risky equity investment is often made by some elderly people after retirement, contrary to what economics tells you. Regarding the Foreign Reserve Account, interest income from U.S. government bonds is at least partially being siphoned out and absorbed in the general fiscal account, but it should rather be set aside and better managed in order to offset possible losses due to foreign exchange rate adjustments in the future. If all these accumulated assets are more properly managed, that would have a significantly positive impact on the Tokyo market as well as the Japanese economy as a whole.
After the presentation, many questions were asked by foreign correspondents, especially about recent moves against direct investments by foreign funds into Japanese corporations, and their effects on the reputation of the Tokyo market. In response, Prof. Ito said personally he was against such moves, although it is up to shareholders whether foreign takeovers are to be accepted or not in purely private cases.
Reference:
Council on Economic and Fiscal Policy; The First Report of the Working Group on Financial and Capital Markets:
"Toward the Establishment of Truly Competitive Financial and Capital Markets" (April 20, 2007):
http://www.keizai-shimon.go.jp/english/publication/pdf/070723_financial_wg_02.pdf
This report is adopted from the following blog (with its Japanese translation):
http://glocom.blog59.fc2.com/blog-date-20080417.html