China's Current Problems and Responsibilities: Views from the U.S.
Takahiro MIYAO (Professor and Head, Japanese Institute of Global Communications, IUJ)
---
Special Lecture at USC (University of Southern California)
Date/Time:
June 18 (Wednesday) 12:00-13:30
Place:
Economics Department, USC, Los Angeles, California, USA
Program:
12:00-12:45


Special Presentation on China's Current Problems
Mr. Zhang Weifu (Nanjing University of Finance and Economics, China, and Visiting Researcher, Economics Dept., USC)


12:45-13:30


Lecture and Questionnaire on China's Responsibilities
Prof. Takahiro Miyao (Visiting Professor, Economics Dept., USC)


Organizers:
Prof. Takahiro Miyao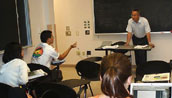 There was a special class meeting with a guest speaker from China, Mr. Zhang Weifu, on "China' current problems and responsibilities" in the East Asia course offered at the Economics Department of USC (University of Southern California) in Los Angeles on June 18.
First, Mr. Zhang gave a brief talk about income inequalities and regional developments in China. Regarding the income disparity issue, he pointed out that in China the Gini coefficient seems very high, meaning a high degree of inequalities, mainly because of vast income disparities between urban and rural areas, which consist of "two different worlds" in China, given the fact that rural to urban migration is strictly regulated. However, within the rural area as well as within the urban area, there does not exist such a high level of inequalities, although some disparities may be remaining within each area, just as they are in any other countries. Mr. Zhang also touched on recent incidents in Tibet in the context of what he described as the "peaceful development of all regions" in China. Aside from his personal insistence that Tibet has historically been part of China for the last few hundred years, his main point on this issue seemed to be that it is important to have an uninterrupted development of the Chinese economy without violence and disturbances, which could possibly result in regional disintegration of China as a nation with disastrous consequences not only on China itself but also on the global economy.
After his presentation, an active discussion took place, as some students asked him about whether China's economic success will help introduce democracy or maintain the current communist rule in China. Mr. Zhang responded by insisting that China has its own political system, a kind of "Asian system," which is and will be different from Western-style "democracy" for the sake of the Chinese people, an argument which may not sell well in the U.S.
In the second half of the meeting, Professor Takahiro Miyao gave a brief lecture on current problems in China, such as energy, environment, piracy and other key issues involving China and other emerging economies. And then he conducted a questionnaire exercise by asking all the participating students to answer various questions concerning China's responsibilities as possible factors to cause some of the global problems such as high energy prices, global warming, etc.
Interestingly enough, the questionnaire results have shown that the respondents seem to think that China is not mainly responsible for the energy and environmental problems or trade imbalances with the U.S., although China is considered largely responsible for rampant piracy activities within that country. It is impressive, to say the least, to see very lenient attitude toward China as a possible cause for various global problems as well as very optimistic prospects for China's long-term prosperity and stability among the participating students. This may be partly because at least half of the students are from Asia, and partly because they sense an improving official relationship between China and the U.S. for the last several years.
This report is adopted from the following blog (with its Japanese translation):
http://glocom.blog59.fc2.com/blog-date-20080622.html