Mr. Taro Aso and Other Candidates for LDP President at FCCJ
Takahiro MIYAO (Professor and Head, Japanese Institute of Global Communications, IUJ)
---
FCCJ Professional Luncheon:
Date/Time:
September 19, 2008 (F) 10:55 - 11:55
Place:
Foreign Correspondents' Club of Japan, Yurakucho, Tokyo
Program:
10:55 - 11:25


Speakers: Taro Aso, Shigeru Ishiba, Noboru Ishihara, Yuriko Koike & Kaoru Yosano (Liberal Democratic Party Presidential Candidates)


11:25 - 11:55:


Q&A

Organizer:
Foreign Correspondents' Club of Japan (http://www.fccj.or.jp)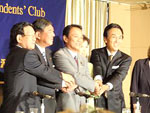 Mr. Taro Aso and other four candidates, Shigeru Ishiba, Noboru Ishihara, Yuriko Koike and Kaoru Yosano, for the president of the LDP appeared in front of foreign correspondents to appeal to the public at home and abroad at the FCCJ professional luncheon meeting on September 19, 2008. The five candidates first expressed their basic beliefs and policy agendas within a few minutes each, following the format given to them. Apparently, what Mr. Aso said seemed to be attracting much attention from the audience. The following is a summary of Mr. Aso's initial statement.
Given the current uncertain situation in the world such as the U.S. financial crisis and the North Korea problem, the importance of the Japan-U.S. alliance should be increasing, not decreasing, over time, no matter who will be elected as President of the U.S. in the upcoming elections. In relation to Asia, especially China and Korea, Japan is destined to work with them for mutual prosperity, although there may be some problems with them arising from time to time. The rising economic power of Asian countries such as China and India is a good thing for Japan's economy as well, and we should build a mutually beneficial relationship with those Asian economies.
In this context, Japan can be a model for other Asian countries to learn from Japan's experience in problem-solving abilities regarding economic development and technological progress. Especially, China seems eager to adopt Japan's approach to technological innovation. Anther role that Japan can play in Asia is that of a stabilizer in cooperation with the U.S. In this unforeseeable world, we should have a better communication with our friends and allies, such as Australia, India, the EU and the NATO nations.
Regarding economic policies, our long-term objectives should be to raise Japan's potential growth capacity, while the medium-term agenda must be structural reform with emphasis on decentralization. In the short term, we need to stimulate the economy through fiscal measures such as tax cuts.
Mr. Aso concluded his initial statement by saying that the main opposition, the Democratic Party of Japan, could not and should not become a ruling party, as it has been adopting obstructionist tactics in the Diet by "taking the BOJ and the budget as hostages."
Then, a number of foreign correspondents asked Mr. Aso and other candidates various questions, ranging from their foreign policies regarding China and North Korea to their domestic policies regarding religion and gender issues. However, none of the candidates could answer those questions directly and satisfactorily, and that was partly "intentional," as they are quite skillful in avoiding any commitment in this kind of Q&A exchange, and partly "unintentional," as they failed to understand the main point of the question asked in English.
This report is adopted from the following blog (with its Japanese translation):
http://glocom.blog59.fc2.com/blog-date-20080919.html