Hotel Okura Executive Luncheon Meeting
Leveraging Japan
by George Fields
The following is excerpted from a speech Mr. Fields (President, Fields Associates) gave at the Hotel Okura Executive Luncheon Meeting on May 18, 2001
---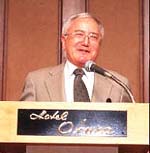 I used to feel that people who spoke of Japan came in two types: those who said that Japan was totally different, and those who said Japan was going to become just like the West. Of course, neither was true. To those who told me they believed Japan was "Westernizing" - a notion often based on an assumption that the consumer culture they saw in Omotesando was representative of the whole of Japan - my standard reply was that I know a lot of New Yorkers eat sushi, but nobody says they are becoming Japanized. Japanese only eat hamburgers because they like hamburgers, it has nothing to do with their values. That was my stance in the issue for more than 20 years, until about 1985.
Changing values
I came to Japan in 1964 to do a research project for the Australian government. I interviewed a lot of very well known, established people. One question I asked them was "How did you feel when you went overseas and what were your impressions?" Almost invariably, they enjoyed and appreciated the experience because they were able to reevaluate Japan with a fresh eye. At the end of the report that I wrote for the project, I said that Japan is going through a second Meiji Restoration; selected people were sent overseas, they acquired skills, brought them back, and modernized Japan.
The Japanese attitude toward the outside world has changed significantly since then. Around the time of the Tokyo Olympics, there were only 250,000 people that traveled outside of the country each year. Today, this figure is around 16 million, and going overseas is no longer an event. Even in the 1970s, when you went to the airport, there would often be a group of Japanese seeing a fellow countryman off. They would shout "Gambatte!" or "Banzai!" and there was this tension as if someone was going off to war. This is no longer true.
A comparison of the 1985 and 1996 Keidanren white papers reflects this astonishing turnaround in attitude. In 1985, Keidanren said that the way we do business in Japan is part of our culture. To ask us to change that is like asking us to change our culture, and no country has the right to demand a cultural change. In 1996, however, the key was deregulation, which simply means a change in the business culture.
Today, about 10 percent of Japanese companies are making a concerted effort to change the way they do business. Hopefully, that ratio will increase to 20 percent. If it does, then it is too soon to write Japan off as an economic force. The companies that are successful, by and large, do not even bother about the past anymore. They are in fact, simply involved in what is going to happen from now, or they are in the forefront of making it happen. Who would have said two years ago that UNIQLO stores would match 7-Eleven in profits? Who would have said in the early 80s that Ito-Yokado, mainly because if its 7-Eleven subsidiary would have overtaken Daiei both in terms of profits and actual number of stores? Today, 7-Eleven's gross sales value is more than that of its parent's and that of Daiei.
Ingredients for success
There are four elements that corporations must cope with today, and these are fundamentally different from anything that Japanese corporations have had to deal with in the past. The first element is mobility.
According to the Graduate Management Admissions Council, the number of foreign students applying to American business schools is skyrocketing. Between 1994 and 2000, there was an 83 percent increase in the number of Japanese, and this reflects mobility at the intellectual level, prompted by very high demand for American business school graduates in Japan, which was nonexistent a few years ago.
Mobility of capital is another example. One of the reasons the Japanese model has not worked is that it is based solely on products, services, and people; but capital drives markets, too. In his famous book, Made in Japan, Mr. Morita criticized American management as being too shortsighted. And that was true at that time, but most people credit the difference to cultural values, which is nonsense. Stable stockholders held 60% of Japanese stocks, while 70% of American stocks were held by non-stable, institutional investors. Institutional investors invest for profit. Stable stockholders invest for growth.
Stable shares, by which I mean interlocking holdings not available on the open markets, accounted for 67 percent of stocks at the time Mr. Morita was looking at Japan. In 1992, that ratio had dropped to 48 percent, by 1999, it was 38 percent. That is mobility, and when you have mobility of capital, you also have mobility of people and mobility of ideas.
The second element for success is simultaneity. The perfect example to express this is a comparison of the birth control pill and Viagra. The birth control pill was allowed in Australia and the United States already in the mid-60s. Japan is the only country in the United Nations that disallowed the birth control pill until two years ago. The health ministry was able to reject the birth control pill on a moral pretext, but the real reasons were probably the existence of vested interest groups.
Viagra, by contrast, within one year of being allowed in the United States and within six months of formal application for its approval being made, was allowed into Japan. Many suspected a gender bias, but that was not the case. Obviously, when the birth control pill was introduced, there was no Internet. With the Internet, it became impossible to prevent people who wanted Viagra from obtaining it on the black market. With no practical means of imposing an enforceable barrier to its entry, the health ministry really had no choice but to allow it into Japan.
All it means, of course, is that if a product is available throughout the world, the ability of the Japanese government to keep it out is no longer there with the Internet. That is what I call simultaneity - happening everywhere at once.
New realities
The third element I call, ukaisei, which means that the shortest distance is no longer a straight line. McDonald's has halved the prices of certain items on weekdays and is still making money. All its competitors are losing money, but they are beginning to do what McDonald's is doing - sourcing all their materials through the Internet, where it is the cheapest. Tied suppliers are no longer the most direct, nor the most cost efficient route, although the geographic distance is the shortest. The famed fixed relationships are fast crumbling.
The last element is heterogeneity. This is most difficult factor Japan faces. The hang-up about foreign incursion is still very much here, and yet, according to IDC, an authoritative research specialist in this area, Japan already lacks 250,000 high technology specialists. The Japanese government has understood this and have just introduced a bill to relax the migration qualifications for those with technical skills.
Japan's aging society compounds the problem, which can only be solved through increased productivity, not through labor intensive craftsmanship. It will be interesting to see how Japan copes with this situation, given that the fear of foreigners destroying the Japanese culture is yet present. We may already have our first hints to the answer with the Nikkeiren (Japan Employers Federation) white paper, which said that foreign labor should be positively introduced into Japan - and this is an official request Nikkeiren has made to the government.