UK Foreign Minister Outlines Policy, Say Japan is Key Global Power
J. Sean Curtin (Fellow, GLOCOM)
---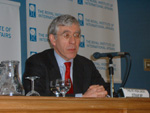 On Thursday 12 February, the British Foreign Secretary, Jack Straw, delivered a policy speech in London at the Royal Institute of International Affairs in which he set out Britain's foreign policy priorities for the coming decade. He also stated that he considered Japan to be a country of key importance to the United Kingdom. In a question and answer session following the address, Iraq and the faltering Middle East peace process were dominant themes. The threat posed by North Korea was also discussed.
Foreign Minister Straw's hour-long presentation was based around a government document that was published in December 2003 setting out British foreign policy objectives for the coming decade. The new agenda identifies various international priorities for the United Kingdom. These are based on an analysis of the threats and opportunities each particular country faces and of how British policymakers expect the world to develop over the coming decade.
In one section of his address, Mr. Straw emphasized the importance of Britain's relations with both the EU and the US. Straw said, "Our membership of the European Union and our relationship with the United States are central to almost everything we do internationally. It is also of paramount importance to our future prosperity and security that the relationship between Europe and the US continues to be strong." He went on to stress the importance of the two working closely together and maintaining unity.
This policy objective helps explain Britain's determined efforts to improve relations with France and Germany, which were severely strained by their bitter opposition to the Iraq war. It also highlights why President George W. Bush's pre-emptive war policy has caused Prime Minister Tony Blair so much concern over his own personal standing within Europe, where the war was generally unpopular and Blair was viewed as one of the policy's staunchest supporters.
Outside the US and EU nexus, Mr. Straw said, "We have to develop strategic relationships with emerging powers such as China and India as they play a greater and changing role in the international system." As Sino-Japanese economic links deepen, the importance of stronger ties with China has also become a key feature of Japanese foreign policy.
Underlining Japan's growing importance, Mr. Straw also stated, "Russia and Japan will also continue to be key global powers and central to achieving our international priorities."
While it was not a major component of his lecture, the British Foreign Minister could not avoid mentioning the military conflict in Iraq. He said, "The big question left unanswered by those who still disagree with our military intervention, is this: what would you do to protect global security from a regime which threatens regional or international stability, and places itself defiantly beyond the reach of the international system on which our security depends?"
In the question and answer session that followed Mr. Straw's speech, he took about ten questions from the audience. The war in Iraq and the conflict between the Israelis and the Palestinians made up the majority of questions with the remainder focusing on North Korea, India-Pakistan relations and EU affairs.
Mr. Straw robustly defended the Iraq war, despite several difficult questions on the justification for the war and the failure to find any weapons of mass destruction. The divisive conflict has dented the poll ratings of Mr. Straw's Labour Party and seriously damaged the standing of Prime Minister Blair. A recent NOP opinion poll showed that 51% of Britons want Blair to resign and 54% believe he lied to the nation over the threat posed by Saddam Hussein.
I probed the Foreign Minister about UK policy in relation to North Korea, asking, "You justify the Iraq war by asking what action should we take with a regime that threatens regional stability and places itself beyond the reach of the international system? Well, speaking as someone who has lived in Japan for over a decade, I can tell you that North Korea is just such a country. We know it possesses nuclear weapons and it has tested its missile delivery systems by firing rockets into the Sea of Japan. This is not a country military intelligence thinks might be engaging in weapons of mass destruction programme related activities. This is a country that openly admits it is trying to produce weapons of mass destruction. This is a regime that clearly threatens regional stability and places itself beyond the international community. Why has it been treated so differently from Iraq?"
Straw did not accept that the two were comparable, stressing Iraq's repeated defiance of the United Nations resolutions. He also said, "Iraq is unique in that it has actually used weapons of mass destruction on its own people. There are also signs that the DPRK is cooperating with the international community and we will continue to pursue the current policy of negotiating with the DPRK."
While most countries in Asia probably favour negotiation as the primary policy for dealing with North Korea, many people might also wonder about the striking differences in the handling of North Korea and Iraq. Until the fall of Saddam Hussein, both Iraq and North Korea were countries characterized by particular brutal regimes that ruthlessly suppressed their own people and openly defied the international community. While it now appears that Iraq may not have possessed any WMDs, North Korea certainly does and has a proven track record of sponsoring international terrorism. Yet Iraq was invaded and North Korea engaged in dialogue.
It is this seemingly contradictory stance that the Bush and Blair administrations have so far been unsuccessful in addressing. The situation may be further complicated if the current instability in Iraq continues which would further erode confidence in Washington and London.
Despite an excellent performance at the Royal Institute of International Affairs by Foreign Minister Straw, there was a sense amongst many in the audience that rather than his ten-year policy document shaping Britain's developing international relations, it was unpredictable events in Iraq that would probably have a larger impact on British foreign policy as well as on the political fate of Mr. Straw himself.