The People's Voice Initiative and Israeli Settlements
J. Sean Curtin (Fellow, GLOCOM)
Ami Ayalon (co-founder of the People's Voice Initiative and former Director of the Israeli Security Agency)
Rosemary Hollis (Head of Middle East Programme, Royal Institute of International Affairs)
Kamal Abu Jabar (former Jordanian Foreign Minister)

---
In a recent presentation about a vibrant Israeli-Palestinian peace plan called the People's Voice, 1 Admiral Ami Ayalon, one of the founders of the initiative, discussed the problem of removing Israeli settlers from the Occupied Territories. This issue is one of the most difficult challenges facing any Middle East peace plan. Admiral Ayalon was also a former Director of the Israeli Security Agency (Shin-Beit) from 1996 to 2000.
(This discussion took place at the Royal Institute of International Affairs in London on 7 May 2004).
Sean Curtin: Admiral Ayalon you mentioned the very real possibility of civil war in Israel if major settlements were to be dismantled. It is obvious from what you have said that your peace initiative has a clear direction leading to a well defined goal. But, is it achievable in light of the fact that many settlers are in the Occupied Territories because of their beliefs? They believe that the West Bank is Judea and Samaria, lands which are an integral part of their faith. Do you think that it is possible for any politician to remove them?

Rosemary Hollis: You talked about how big a deal it would be to remove 8,000 [settlers]. How about 100,000?

Ami Ayalon: As for the evacuation of settlers, we will be in charge of that. We shall be able to do it only if we shall speak to each other. If we understand that it is painful. Even my father will not forgive me for saying on Israeli TV, "It will only be a leader who comes from [the] Likud [Party] who can do it." You have to understand, I was born in the Jordan Valley on a Kibutz and nobody in this Kibutz used to vote Likud. [So, what I meant from this comment was] only a leader who feels the pain of this decision can do it.
For anyone who feels that it would be a happy event will never be able get or to create the consensus that will enable us to deal with such a painful event. This is why we [the People's Voice] are so careful about not being part of the right or the left. There is no right or left on the [physical] ground of Israel. There is right and left on the Israeli political map, but the majority of us, 70% of Israelis, can accept this paper [the Statement of Principles of the People's Voice ].
…In order to create this common denominator we have to separate between the parties, which may distinguish these parties, right-left. We are fighting all along to create a common denominator of the people who agree to these basic ideas. Finally, in the future probably to create, in a very strange way, a new political map. No matter who will be the leader, as long as he represents the consensus and the very wide common denominator amongst the Israelis.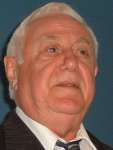 Kamal Abu Jabar: There have been probably fifty or sixty peace initiatives and each one of them has really been demolished on the rock of Israeli refusal to come to terms [with the agreement]. I think we should be forthright [on this matter].
Rosemary Hollis: Who is we?
Kamal Abu Jabar: We on the Arab side. [Although] I do not speak for the Palestinians, I speak for myself.
Rosemary Hollis: You are a former foreign minister of Jordan.
Kamal Abu Jabar: If we are not forthright, we will not get anywhere or anything. I heard Admiral Ayalon say it will be painful to pull out 8000 settlers. They should not be there in the first place. This is something that has to be said. I think this is what we need to do.
If I may offer a suggestion. How can we achieve peace when we have such an imbalance between the Israelis and the Palestinians. I am not just talking about a military imbalance, but it's political, economic and in every other sense of the word.
As for common ground. I think we should work to reach exactly the same balance. And what are the areas where the balance needs to be restored? I think the Zionist movement should be addressed more so than any other entity, organization, government or whatever. I am a man of peace.
The above discussion took place at the Royal Institute of International Affairs in London on 7 May 2004
Notes
1 The People's Voice is an Israeli-Palestinian civil initiative, which aims to influence the leaders on both sides to accept a term sheet for the end of the conflict. Also called the destination map, this deals with the issues at the core of the conflict which will need to be addressed in the framework of a permanent agreement. The initiative was publicly launched on both sides of the divide in June 2003, and more than 300,000 Israelis and Palestinians have already joined it. The peace proposal is based on the belief that agreeing on the final destination is a pre-requisite for any substantial progress in the peace process, and argues that the role of civil society is crucial in reaching such agreement on what the destination should be.
References
Unilateral Disengagement and Reaction to Sharon's Proposals
Europe Report #81, 28 April 2004
Moderate Palestinian Prime Minister Visits London
Europe Report #72, 11 March 2004
Japan to Polish its Tarnished Middle East Image
Asia Times, 5 May 2004
Impact of American Middle East Policy on Iran and Iraq
Europe Report #86, 18 May 2004
Sharon Administration's View of Europe and the Arab World
Europe Report #83, 30 April 2004
Japan Exorcises the Ghosts of Terrorism Past
Asia Times, 19 April 2004
Bush Hails 'Historic' Sharon Plan
BBC News, 14 April 2004
Iraq Hostage Crisis Signals Turning Point for Japan
Asia Times, 14 April 2004
British UN Adviser Says Iraq a One-off Event
Europe Report #78, 1 April 2004