British UN Insider Thinks New UN Mandate in Iraq Likely after June
J. Sean Curtin (Fellow, GLOCOM)
---
This is the first part of a two-part article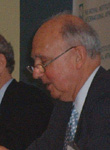 Recently, the Royal Institute of International Affairs in London hosted an important presentation by key UN adviser Lord David Hannay, who gave some important indications about how the UN's involvement in Iraq might develop during 2004. In a wide ranging speech, Lord Hannay suggested that the UN would probably have a new mandate in Iraq after June.
Japan has recently completed a historic troop dispatch to Iraq and it is widely accepted that developments in the country will directly influence Japanese domestic politics. While Lord Hannay stressed that his comments were given in a strictly personal capacity and should not be taken as official UN policy, his insider's observations no doubt give a strong indication of dominant UN undercurrents. For Prime Minister Junichiro Koizumi, who has invested nearly all of his political capital in the Iraq troop dispatch, Hannay's observations offer a fair deal of comfort.
Probable New UN Mandate in Iraq after June
One of the most interesting aspects of the presentation was on the topic of future UN involvement in Iraq. Lord Hannay suggested that the UN would probably be back in the war-torn nation with a new mandate at the beginning of July.
In the question and answer session following his speech, he was asked, "Mr. Zapatero [the incoming Spanish Prime Minister] has warned that Spain will put troops out of Iraq unless there is a clear UN mandate to replace the occupation force by the end of June. Do you expect a clear mandate by then and if so can I tempt you to a judgment whether it will on balance enhance or diminish the UN's prestige and effectiveness?"
To this Lord Hannay replied, "Do I think there will be a new UN mandate before the end of June? Yes. Probably, I think there will be. I can see no reason why there should not. There is going to be a fundamental change on the 30 June. At that point in time, Iraq sovereignty is going to be placed in the hands of an interim Iraqi governing council with a programme or timetable for moving towards elections. It will require therefore a very substantial re-jigging of all the arrangements in Iraq because the Coalition Provisional Authority will, as I understand it, cease to exist on that date. The status of the armed forces there currently will need regulating and their mandate will need to be set out and I suppose it is not totally inconceivable for example that you will have a situation like you have in Afghanistan with both the presence of an American force cable of enforcement and a presence of a more peacekeeping international force. That is effectively what you have in Iraq at the moment, but the two are not separated. I have no doubt that an enormous amount will happen between now and the end of June, some of it good, some of it bad. It is no good making predictions about it. I think that the Spanish government along with other EU governments will face, as usual, a very difficulty series of choices. Do they wish to enhance the possibility that a democratic, prosperous Iraq emerges from this turmoil or do they want to make it less likely? If the former, then do they want to make a personal contribution to it or not. Not everyone will." Today, Iraq is controlled by the US-led Coalition Provisional Authority which assumed control of Iraq in May 2003 and is scheduled to dissolve itself at the end of June 2004.
The UN Secretary-General Kofi Annan has also recently hinted that the UN will soon be taking on a greater role in Iraqi reconstruction. Both statements are music to Koizumi's ears as when the UN takes control, the present Japanese troop deployment will be given the UN legitimacy it currently lacks and Koizumi so desperately wants.
The comments quoted in this article were made in a presentation given at London's Royal Institute of International Affairs on 16 March 2004.
Lord Hannay Profile
Lord David Hannay of Chiswick is a former Permanent Representative to the UN (1990-1995) and current member of the UN High Level Panel on Threats, Challenges and Change. He also served as the British Government Special Representative for Cyprus from 1996 to 2003 and was a former British ambassador to the European Union as well as a member of the advisory board of the Centre for European Reform.
UN High Level Panel on Threats, Challenges and Change
The 16-strong High Level Panel on Threats, Challenges and Change is an important committee that was proposed by UN Secretary-General Kofi Annan last September and appointed in November 2003. It is charged with helping the Secretary-General chart a new course for the UN. Its report is due out in December 2004 and is expected to have a substantial impact on the direction of future UN reforms.
Other members of the 16-strong Panel on Threats, Challenges and Change include Sadako Ogata, president of the Japan International Cooperation Agency; Brent Scowcroft, former US presidential adviser; former Russian Prime Minister Yevgeny Primakov; and former Chinese Vice Premier Qian Qichen, inter alios.
Related Articles
Spanish Election sets off Global Shock Wave
Asia Times, 16 March 2004
US foreign policy is popular - in the US
Asia Times, 18 March 2004
Iraq Anniversary in Europe – Part One: Iraq War has Little Support in Europe
Europe Report #74, 24 March 2004
Iraq Anniversary in Europe – Part Two: UK divided over Iraq War
Europe Report #75, 24 March 2004
No Easy Answers to Today's Threats
David Hannay, Financial Times, 15 March 2004
Iraq Anniversary in Europe – Part Three: Iraq War changed the Finnish Government
Europe Report #76, 24 March 2004
The Sound of Silence Unites Europe
Europe Report #73, 18 March 2004
UK Foreign Minister Outlines Policy, Say Japan is Key Global Power
Europe Report #70, 23 February 2004
Key Figure in Iraq Administration Delivers "Half-term Report" to Europe
Europe Report #67, 24 December 2003
Japanese Anti-War Sentiment on Iraq in Accord with Global Opinion
Social Trends: Series #28, GLOCOM Platform, 24 February 2003
Japanese Anti-War Sentiment Reaches New Heights
Social Trends: Series #29, GLOCOM Platform, 5 March 2003
Opinions about Dispatching Japanese Troops to Postwar Iraq
Social Trends: Series #49, GLOCOM Platform, 24 July 2003
Postwar Opinions about the Iraq Conflict
Social Trends: Series #50, GLOCOM Platform, 29 July 2003
Spain Rocked by Iraq Ambush
Europe Report #64, 1 December 2003
Al-Qaeda Strikes its First Blow on European Soil
Europe Report #63, 27 November 2003
Japan and Europe Adapt to Life under the Shadow of Terror Threats
Europe Report #68, 22 January 2004
Iraq Gives Blair Nightmare Week
Europe Report #71, 4 March 2004
Blair Strikes Back
Europe Report #69, 29 January 2004
Saddam's Capture Unites Europe, Gives Blair a Lift
Europe Report #66, 15 December 2003
Bush Heads for Controversial London Visit
Europe Report #62, 18 November 2003
Confident Koizumi Outshines Browbeaten Blair
Asia Times, 23 July 2003
Blair's Political Future Looking Dark as Koizumi's Shines
Debates, GLOCOM Platform, 16 September 2003
Koizumi Haunted by Blair's Iraq Dilemma
Debates, GLOCOM Platform, 17 February 2003