Britain's Vision of the South Asia Dynamic
J. Sean Curtin (Fellow, GLOCOM)

---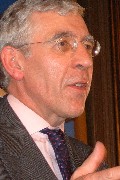 The following is an edited version of a speech given by the British Foreign Minister, Jack Straw, in which he sets out the United Kingdom's vision for deepening its already strong ties with South Asia. For Japan, South Asia, especially India, is also a region where economic ties are becoming increasingly important.
This speech was delivered on 19 May 2004 at a Commonwealth Business Council event called "South Asian Dynamic" which was held at the Reform Club in London.
The Right Honourable Jack Straw, Secretary of State for Foreign and Commonwealth Affairs:
As you all know, the largest democratic process in the world, in the shape of the Indian elections, drew to a close last week. No-one can fail to be impressed by the power of a democracy where over 380 million people can bring about a peaceful transfer of power through the ballot box. India's pluralist democracy is a role model for her neighbours and partners in South Asia.
And all of us in the British Government wish the incoming Indian United Progressive Alliance Government which now looks likely to be led by the architect of India's economic reforms, Manmohan Singh every success in the challenges ahead.
I certainly don't underestimate those challenges, both for India and for governments and people across the region. It is vital, not least, that the leaders of India and Pakistan continue to show vision and courage to keep the Composite Dialogue on track in the coming months. There are other political and security challenges too, such as in Nepal.
But there is also today a great opportunity in South Asia to create a virtuous circle of security and prosperity. Greater security can encourage businesses to invest for the long term; and the greater prosperity which business generates can in turn reinforce regional security.
If such a virtuous circle can be created, South Asia's potential as a region will be huge. So the commitment by the members of SAARC [South Asian Association for Regional Cooperation] to enhance their regional cooperation, at their Summit in Islamabad last January, was most positive. So too is the work towards implementing a South Asia Free Trade Area by January 2006, which is gathering pace. I was struck that some of the SAARC conclusions directly reflected the model of the European Union, which has eliminated the scourge of war from our own continent by building economic cohesion.
I first visited India 25 years ago on my honeymoon. Today its economy has changed almost beyond recognition. And even in the relatively short intervals between my more recent visits, the changes brought about by surging growth are unmistakable.
One of the places I visited in February was a research and development centre run by Astra Zeneca in Bangalore, developing drugs against tuberculosis. It is the first such centre which Astra Zeneca has opened in an emerging market and an illustration of how the knowledge-based economy in India is driving forward growth. Even the pessimists expect Indian growth to remain at over 6 percent, and for the optimists the estimate is far higher.
Some time between 2020 and 2030, India will become the world's third or fourth largest economy according to Goldman Sachs, it will overtake Britain in 2016. Each year, India's vibrant middle class is growing by a number equivalent to the population of Australia; and 2 million new Indian mobile phone subscribers are added every month. All this is underpinned by an education system which produces 3 million new graduates every year, and a culture which allows creativity to thrive.
That economic success is changing the nature of Britain's relationship with India. Ours is becoming a truly two-way partnership. Indeed India is now the eighth-largest investor in Britain, with three-quarters of that investment going to the knowledge-based sector. Sixty per cent of Indian investment in Europe comes here, and it has created over 1,100 jobs over the last three years. At least two thirds of the software professionals who come here from abroad are from India.
The English language, and the millions of ties between people in Britain and South Asia, give a human dynamism to our business relationship which helps trade and investment to flow. In my own constituency of Blackburn, thousands of people trace their origins to the subcontinent and maintain strong links with families and friends there and as you all know, that is true across the country.
But South Asia is just as enriched by these links as Britain. When I was in India I had the privilege of meeting Karan Bilimoria, originally from Hyderabad, and the creator of Cobra beer which has sold so successfully in Britain. I believe he is here today in the audience. Now Mr Bilimoria is investing back in India to market Cobra there. He is also co-chairman of the Indo-British partnership for trade and investment. And in that capacity, he is this summer bringing a delegation of Indian chief executives to Britain, all of whom are interested in investing here. Mr Bilimoria personifies our two-way business partnership, which benefits India and Britain alike. And there are many other role models of that type.
On my visit to Pakistan in March I also sensed a real feel-good factor backed by 6 percent growth and huge rises in the Karachi stock exchange. The EU-Pakistan trade partnership agreement, in whose negotiation Britain played a leading role, has made an important contribution too. Again, that economic success is paying off in Britain's relationship with Pakistan. Our visible trade rose 14 percent last year, and Britain is the largest overseas investor there.
Meanwhile the improving security situation has allowed us to remove some of the obstacles to an even closer economic relationship. We have reduced the level of warning in our travel advice for Pakistan; and direct British Airways flights there resumed last December. I am glad that at the beginning of this month we restored our visa service in Islamabad.
In Bangladesh too, British firms are well set to make the most of the opportunities offered by growth. British companies already supply some 25 percent of Bangladesh's electricity and 15 per cent of its gas. Bangladesh is now the largest South Asian exporter of goods to the UK after India.
And in Sri Lanka, the Free Trade Agreement with India, along with sound economic policies, have been allowing the country to benefit from the economic dynamism of its northern neighbour. They make Sri Lanka an attractive base for companies wishing to reach the Indian market.
All this makes for a region with vast potential. The crucial challenge for the future, alongside security, will be to maintain the pace of liberalisation and competition which so benefits business and economic growth.
So, we will keep on working to break down barriers and disincentives to trade and investment. It is vital that we make progress on the Doha Round of trade liberalisation, because removing trade barriers is three times more effective a tool for development than direct aid. And meanwhile, we will continue to argue that Indian companies and Indian consumers would benefit if British firms were allowed greater access to the Indian market especially in the sectors where our firms are world-beating, such as banking, accounting, legal services and insurance.
We will also work for stronger safeguards for business in South Asia, such as a better framework for patents and intellectual property rights. We want to see air services to India increase. And we will work with the countries of South Asia, as part of our commitment to their long-term development, to ensure that the benefits of rising prosperity are shared by all.
The above speech was delivered on 19 May 2004 at a Commonwealth Business Council event entitled "South Asian Dynamic" which was held at the Reform Club in London.
References
Japan to shift aid focus from China to India
Purnendra Jain, Asia Times, 11 March 2004
UK Foreign Minister Outlines Policy, Say Japan is Key Global Power
Europe Report #70, 23 February 2004